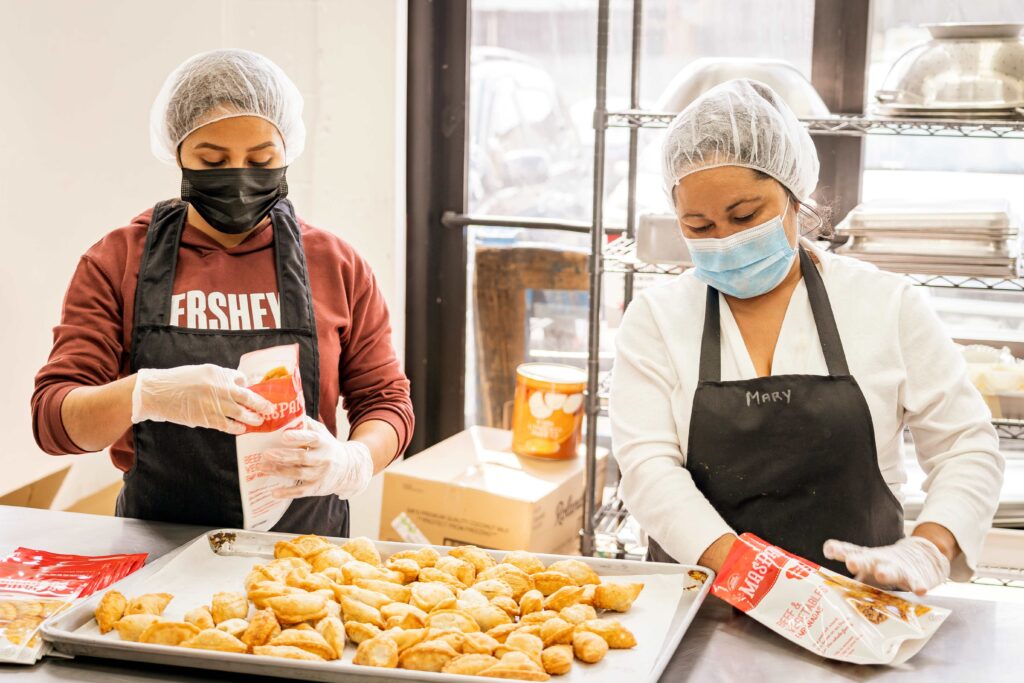 The 12,000 square foot acquisition at 601 Dover Road is adjacent to its current facility on Southlawn Lane in Rock East District
Article originally published by Washington Business Journal on March 27, 2023
MasPanadas is readying to move into larger digs that will position it to triple the amount of frozen empanadas it produces at its Rockville headquarters.
The company, which does business as Latin Goodness Foods LLC, recently took delivery of another 12,000 square feet at 601 Dover Road, adjacent to its 6,000-square-foot facility on Southlawn Lane, and is awaiting permits from the city of Rockville to begin building out the space.
Once that's completed, likely during the third quarter, MasPanadas hopes to ramp up from five tons of product a week to roughly 15 tons, per founder and CEO, Magarita Womack. To help fuel that growth, it recently closed a $1.5 million seed funding round with backing from Angeles Investors and Union Kitchen, the food business accelerator and retailer where MasPanadas got its start in 2017.
"The line has really grown with popsicle sticks and duct tape, and now we can be so much more efficient," said Womack, whom the Washington Business Journal recognized as its small business owner CEO of the Year in 2022.
The increased production will include both private-label empanadas that it makes for such retailers as MOM's Organic Market, Streets Market & Cafe and Whole Foods Market and sells under the stores' brands, and its own MasPanadas-labeled products. Up to now, the company has been mostly focused on private-label sales, said Womack, but plans to deploy cash from the new funding round to get its branded frozen empanadas on more store shelves. The goal, she added, is to increase annual revenue from roughly $6 million to $10 million.
MasPanadas has five different products on store shelves, including chicken and vegetables, beef and vegetables, and pizza empanadas, and another eight for private-label sales.
It is one of a number of startups to successfully emerge from retail and food business incubator, Union Kitchen, with others including Compass Coffee, Snacklins and Swapples. Its latest fund was oversubscribed by around $25,000 — a swell of support for which Womack is grateful as the company navigates its next phase of growth.  
It's an awkward time in its growth cycle as MasPanadas is no longer a tiny startup but not quite established enough to easily line up construction financing, Womack said. Her initial lender was reluctant to extend financing until the company showed the kind of increase in sales it projected in its business plan — but that bump was conditioned on completing the expansion for which it was seeking funding.
Womack said MasPanadas' landlord at 14672-B Southlawn Lane advanced the company enough to cover tenant improvement costs while it works to close on its construction financing. In addition to the physical expansion, the company is investing about $1.8 million in equipment.
"We're kind of in that preteen phase, where you're not quite a startup, but you're not quite a small business either," she said.
Source: https://www.bizjournals.com/washington/news/2023/03/27/empanadas-maker-maspanadas-rockville-expansion.html
About Latin Goodness Foods, LLC dba MasPanadas
MasPanadas is a woman-owned, Rockville-based manufacturer of empanadas (a popular Latin American street food) located at 14672-B Southlawn Lane in Rockville's Rock East District. MasPanadas hires from underserved segments of the local community with over 80% of their staff representing immigrant women. Learn more about MasPanadas at https://maspanadas.com/