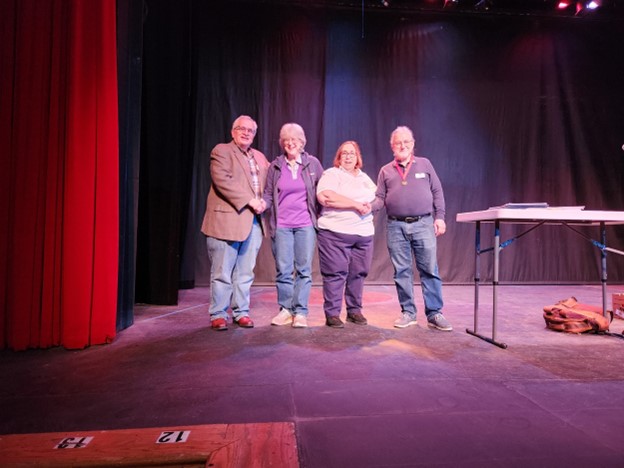 Rockville Little Theatre's PRIDE@PREJUDICE garnered multiple accolades including 'Outstanding Production'
Rockville, Md., Feb. 20, 2023 – Rockville Little Theatre performed a 45-minute selection from their recent production of PRIDE@PREJUDICE by Daniel Elihu Kramer at the Maryland Community Theatre Festival (mctfa.org) held in La Plata on February 11 – 12.  PRIDE@PREJUDICE was originally performed at the F. Scott Fitzgerald Theatre in Rockville, MD  from January 28 – February 5.
RLT competed against six other productions: Kentland's Community Players, Port Tobacco Players, Raging Hag Productions, Newtowne Players, New Direction Community Theatre and The British Players.
PRIDE@PREJUDICE was directed by Laura W. Andrusk and produced by Teresa Gillcrist.  The Assistant Director/Technical Director was Aaron Skolnik. The cast included Niranjali Amerasinghe, Lena Winter, Meghan Williams Elkins, Ian Swank and Joseph Coracle.
PRIDE@PREJUDICE garnered the following accolades:
Outstanding Stage Manager to Aaron Skolnik,
Outstanding Ensemble Performance,
Outstanding Achievement in Acting to John Coracle,
Ed-Ro-Char Award for Technical Excellence, and
Outstanding Production.
The win for Outstanding Production allows Rockville Little Theatre the opportunity to take their production to the Eastern States Theatre Festival (estafestival.org/) in Wilmington, DE on April 14  –  16.
About Rockville Little Theatre
Rockville Little Theater (RLT) was founded in 1948 and is the oldest continuously operating 501(c)3 nonprofit live theatre in the Rockville area. RLT provides high quality performances at reasonable prices. We strive to entertain, enlighten and educate all who attend our theatrical events. RLT offers an opportunity for community members to step out of their everyday lives and to assume new roles as playwrights, actors, directors, costume designers, set designers, and audiences. Learn more at http://www.rlt-online.org/