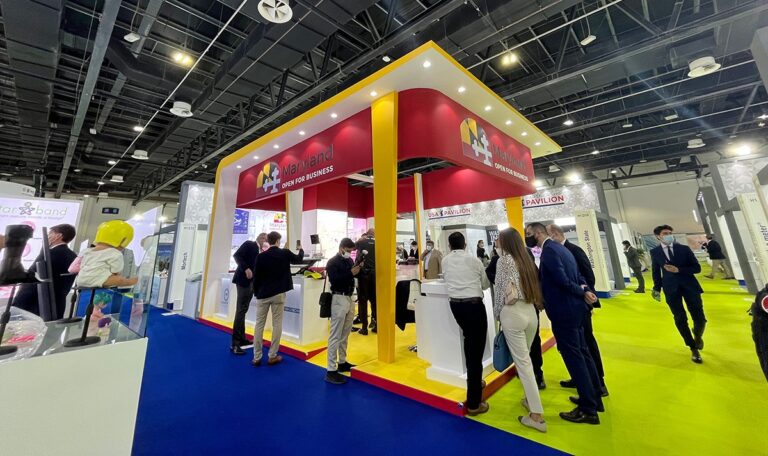 The delegation of Maryland companies include Get Real Health, Integrated Pharma Services and Inteleos from Rockville
Press Release published by Maryland Department of Commerce
BALTIMORE, Md., Jan. 24, 2022 — The Maryland Department of Commerce this week is leading a delegation of several Maryland companies to Arab Health 2022, one of the world's largest healthcare exhibitions. Held in Dubai, this is the eighth year Maryland Commerce has exhibited at the trade show, promoting the state's healthcare assets as well as a number of small and mid-size companies to a global audience. 
Maryland is hosting a nearly 42 square-meter booth (approximately 450 square-feet) to demonstrate company products and services, located in the U.S. Pavilion in Hall 1, Aisle E Booth 39. Exhibiting companies will receive display space and meeting areas within the booth, as well as matchmaking assistance through Maryland's global office in the United Arab Emirates (UAE). The department will also offer a virtual participation option for companies unable to travel due to the pandemic. Prior to the pandemic, the conference attracted upwards of 50,000 attendees from more than 150 different countries around the world. 
"There are several reasons why Maryland has thousands of medical and life science companies—including our educated workforce, research and development contracts, and access to federal labs and facilities," said Governor Larry Hogan. "Our attendance at Arab Health will help keep Maryland at the forefront of innovation and remind the industry's top leaders and decision makers what our state has to offer companies interested in expanding to the United States."
The 14 Maryland companies traveling to Arab Health as part of the delegation include Alliance Care Technologies (Easton); Bluffajo Cosmetics (Germantown); Get Real Health (Rockville); Global Alliant (Olney); Integrated Pharma Services (Rockville); Inteleos (Rockville); Man and Machine (Landover); OMM Collection (Kensington); Pevco (Baltimore); Restorative Therapies (Baltimore); Silbiotech, Inc. (virtual attendee) (North Potomac); Sisu Global (Baltimore); and Trinity Sterile/Sklar Instruments (Salisbury). 
"We have always looked forward to leading our yearly delegation to Arab Health, but now more than ever, we want to continue providing a variety of resources to help our Maryland businesses expand their customer base," said Maryland Commerce Secretary Mike Gill. "The exhibiting spaces and matchmaking services provided through these trips offer countless benefits for our local companies. We encourage interested businesses to explore upcoming opportunities and other resources offered by our department." 
Trinity Sterile and Sklar Instruments, two companies that merged in the early 2000s, are co-exhibiting for the first time at Arab Health. The Eastern Shore entities are looking forward to expanding their market shares and opening new channels of distribution throughout the Middle East and North Africa (MENA) region.
"We are pleased to present both of our companies, as two of the premier manufacturers of sterile procedure kits and one of the top five largest instrument manufacturers in the U.S.," said JoAnne Stephens, director of international sales at Sklar Instruments. "We not only manufacture for our own brands, but we're also the original equipment manufacturer for some of the larger sterile kit packers in the country."
Maryland Commerce recently awarded several rounds of ExportMD grants, and many recipients utilized the funding to travel to Arab Health and
last fall's MEDICA trade show
. ExportMD grants are provided to small and mid-size companies on a monthly basis to assist with travel and marketing costs associated with international trade shows. The next application deadline for the program is February 1, 2022 and eligibility requirements can be found
on our website
.
August – December 2021 ExportMD grant recipients
Anne Arundel County
S&M Engineering 
SpatialGIS, LLC
TRACE, Inc.
Baltimore City
Restorative Therapies
Sisu Global Health
Baltimore County
Longeviti Neuro Solutions 
LuminUltra Technologies 
mdlogix
Supplema, LLC 
Vac Pac Inc. 
Charles County
KM Williams & Associates
Harford County
Health Kiosk for All
Howard County
Global Alliant, Inc.
Hawkeye MedTech Inc. 
​​Hudson Global Scholars 
Montgomery County
Bluffajo Cosmetics
CB America Corporation
Integrated Pharma Services
Neighborhood Sun Benefit Corp.
OMM Collection
Pindox Pharma Inc.
RAZ Mobility LLC
Silbiotech Inc.
Silvec Biologics 
Trax Sports, LLC 
Prince George's County
Man and Machine, Inc.
Phoebe Marketing Group 
Talbot County
Alliance Care Technologies, Inc.
Wicomico County
Trinity Sterile, Inc.
About

Get Real Health
Get Real Health combines a world of new information from patients, devices and apps with existing clinical data to help individuals and healthcare professionals engage and empower each other. By giving providers and patients the information and tools they need to work together, Get Real Health helps their customers achieve a wide range of clinical and business objectives. Learn more at https://getrealhealth.com/
About Integrated Pharma Services
Integrated Pharma Services (IPS)  is an Award-Winning Contract Research Organization (CRO) and Reliable Partner to potential customers. IPS engages Ph.D. level scientists and skilled technical staff to design, troubleshoot, conduct, analyze, and report the scientific data. IPS has a strong scientific reputation and track record of providing customers the supporting data needed to advance their candidate therapeutics and diagnostics. Learn more at https://www.integratedpharmaservices.com/
About Inteleos
Inteleos is an independent non-profit, mission-based certification organization that delivers rigorous assessments and cultivates a global community of professionals dedicated to the highest standards in healthcare. Inteleos is the
overarching governance
and management organization for the American Registry for
Diagnostic Medical Sonography® (ARDMS®) the Alliance for
Physician Certification & Advancement™ (APCA™), and the
Point-of-Care Ultrasound (POCUS) Certification Academy™ . Learn more at https://www.inteleos.org/