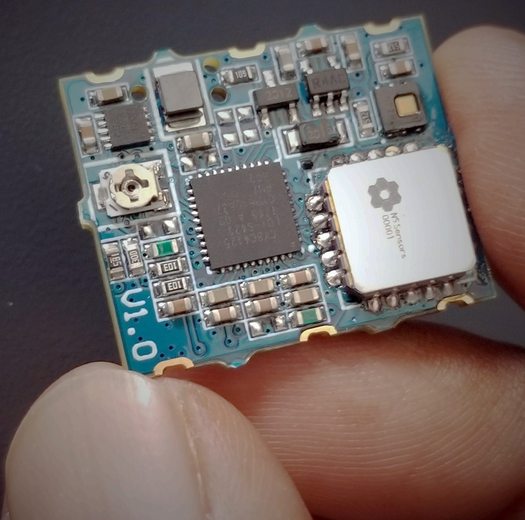 The $2.5 million from a recent seed round will allow N5 Sensors to increase manufacturing and hiring
Article originally published by Washington Business Journal on June 20, 2023
N5 Sensors, a Rockville environmental hazard detection tech company, is using $2.5 million from a recent seed round to build more of its fire-detecting sensors and hire more boots on the ground to convince emergency services agencies, particularly in rural areas, to pilot its products.

N5 Sensors partners with utility companies, casinos, municipal emergency services, farms and pretty much any large landowner to detect environmental hazards, such as wildfires, chemical spills and air pollution, using an artificial intelligence algorithm and autonomous ground sensors. It closed last month on a $2.5 million seed round that was led by Vienna-based Blu Venture Investors and included $400,000 from the Maryland Technology Development Corp. (TEDCO) seed fund — dollars that N5 Sensors now plans funnel toward expanding its sales and marketing teams by four employees and increasing production of its fire detection sensors.
"The U.S. is very resource-constrained, especially in remote areas," CEO Abhishek Motayed said. "You have a few sheriff's deputies and a few firefighters tasked with protecting hundreds and hundreds of square miles. How do you do it?"
Motayed said he hopes the effects of the recent Canadian wildfires make potential buyers see the value of early detection of these brush fires before they become raging infernos that pollute the air quality for thousands of miles.
"When people look at us, they think, 'Oh, this is a fire detection solution and not relevant to East Coast states,'" Motayed said. "Fires are not a localized problem. The effect of fire and the smoke and all of that stuff can create a lasting impact and affect communities far and wide."
As for how N5's product works: When a wildfire breaks out in a community, its ground-based sensors autonomously detect the fire's signature and movement. Cloud-based AI then processes that data and sends a text email notification with the exact GPS coordinates to an emergency manager's office or the local fire department early in the process. The company rolled out the product last year and partnered this past fall with the California Department of Forestry and Fire Protection's Research, Development and Innovation team to test the tech.
"A system like this can automate the whole thing," Motayed said. "You can send one car or one truck and put out a small fire versus waiting 12 hours or a day, and now it's a 10,000-square-acre fire — much harder to firefight."
The company was founded in 2012 as a spinoff from the University of Maryland, one of only a few schools nationwide with an established fire protection engineering degree program. But N5 is increasing its focus on the fire-sensing business line as it awaits a potential revenue opportunity around another of its products, a wearable chemical threat detection device.
The company, in 2021, had won a $6 million Department of Defense contract to further develop and attune that sensor, designed to detect airborne chemicals like warfare agents and industrial toxins, for potential military use. At that time, N5 had hired five more staffers for its engineering and business development teams and expanded into 5,000 square feet at 9605 Medical Center Drive, where it still resides today.
Now, N5 Sensors is shortlisted for a DOD contract that Motayed said could be worth nearly $120 million across its full four years to produce those sensors for the military. But he said that award process has hit delays, leaving a potential six-month gap in projected funding for the company and providing his biggest overall challenge in maintaining revenue levels.
In the meantime, he said he hopes to build up the company's sales of its fire detection systems to municipalities and utility companies to help fill that gap. The alternative, he said, is having to let go of the team he hired for the DOD contract, but that sometimes provides further complications for smaller contractors like N5, which counts 30 employees across two Rockville locations, as well as Brazil and India.
"Think about this, for Booz Allen, for Lockheed, let's say they let 20 people go that's supporting [a stalled DOD contract]. When the program kicks in, it would be like a snap for them to hire back another 20 people because everybody wants to work for Booz Allen, and they can offer a 20% higher salary. Not for us," Motayed said. "If we let three people go that are vital to the program, how do I replace them when the contract kicks in? People don't talk about these things."
Smaller businesses indeed face an oft-described valley of death in the federal procurement process, frequently weeding them out of the process. The number of small businesses nationwide that received government contracts hit 121,270 in 2010. By 2022, that number was cut by more than half to just 58,681.
As for N5 Sensors, Motayed didn't specify revenue but said part of his challenge is to convince localities to spend $100,000 or more for the fire sensor networks the company is pitching now.
"We are trying to change the perception. That takes time," he said. "So we're projecting good revenue, but it has been slow."
About N5 Sensors
Founded in 2012 a spin-off from University of Maryland, College Park, N5 Sensors uses a cloud-connected ecosystem of smarter sensors and shared data and AI to keep people safe from environmental hazards. Learn more at https://n5sensors.com/