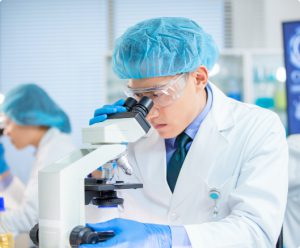 Updated June 12, 2020
During our public health crisis and time of uncertainty, several Rockville businesses–along with businesses in the surrounding areas–are making significant contributions during the COVID-19 pandemic. Company impacts vary, but some of the ways they are influencing change and supporting the greater good include:
Developing and manufacturing new products that align with their current core business strengths;
Pivoting company operations to meet new community needs;
Creating resources and tools to help small businesses remain operational during shelter-in-place mandates; and
Using company resources and influence to support frontline workers during the public health crisis.
If your Rockville business is contributing to the stabilization of the COVID-19 health crisis, we'd love to feature it here. Contact us at admin@rockvilleredi.org with the details.
Maryland's Life Sciences Companies Collaborate on COVID-19 Vaccines, Therapeutics, and Diagnostics
Maryland's life sciences companies are working together to create vaccines, therapeutics, and diagnostics. Here is a list of Rockville companies and their current COVID-19 initiatives as provided by Maryland Life Sciences, a division of Maryland Tech Council:
Other Maryland life sciences companies contributing to COVID-19 initiatives include:
Rockville Distiller & Organic Beauty Company Respond to Hand Sanitizer Need
In mid-March as the COVID-19 pandemic was rapidly spreading and hand sanitizer was scarce, Twin Valley Distillers, which normally produces spirits such as rum, vodka, whisky and bourbon, pivoted its business to respond to a vital community need—hand sanitizer.
With traditional sanitizer companies unable to keep up with the public demand, owner Eduardo Zuniga began production in his facility. In addition to offering a solution to a public health issue, it also kept his employees working full-time when a reduction of hours was imminent. Twin Valley Distillers helped supply hand sanitizer to local first responders in Montgomery County, the city of Baltimore, and the city of Frederick.
Aisha Khadar of Sha's Creations, a maker of organic body products and one of the featured women-owned retailers in Maryland Women's Business Center's business incubator–Shop Local Rockville–received a grant from Montgomery County's from newly created Local Production Fund. She is using her grant to manufacture hand sanitizer and liquid disinfecting soaps for our community.
Rockville Ping Pong Company Makes Masks for Healthcare Workers
Rockville resident Richard Lee owns Joola Table Tennis, a company that makes ping pong tables and has its North American headquarters based in Rockville. He's pivoted his company to produce face masks primarily for healthcare workers. Lee selected to make face masks because his sister is a frontline healthcare worker and because they not only protect the people wearing them, but also the people around them. So far, the company has produced more than 500,000 face masks and will continue to make masks to keep communities safe during COVID-19.
Rockville's True Respite Brewing Company Helps Breweries Across the Country Remain Operational
To help craft breweries reach customers and maintain sales during the pandemic, True Respite Brewing Company developed a novel online platform—Biermi.
Through the website, customers can select a local brewery, place an online order, and schedule a pick-up or delivery (where available). So far, nearly 90 breweries in 27 states have gone live on the Biermi platform, with more on the way every day!
This groundbreaking platform has helped breweries remain operational during this critical time, facilitating more than $500k in sales to date. And of course, True Respite offers curbside pick-up and delivery service for local Marylanders as well.
Dawson's Market & Local Restaurants Provide Meals for Frontline Workers
Efforts in Montgomery County to provide food to frontline workers—doctors, nurses, caregivers & support staff, EMTs, firefighters and the countless others who are fighting the pandemic—now includes a specific campaign for Adventist HealthCare Shady Grove Medical Center and its affiliates. Julie Sapper spearheads this campaign and the community is grateful for her devotion and commitment.
Several Rockville businesses/restaurants have participated including Dawson's Market whose patrons recently purchased 284 meals delivered to frontline workers, The Bean Bag Deli & Catering, Botanero Restaurant (which is also accepting online donations to provide meals for the Rockville Fire Department), Fontina Grille, and il Pizzico. The next participating restaurant is Berries & Bowls (The Kentlands in Gaithersburg), which is trying to provide 500 bowls to the dedicated frontline workers in all departments of the hospital(s). Donate here or visit the campaign's Facebook Page to support local restaurants/efforts.