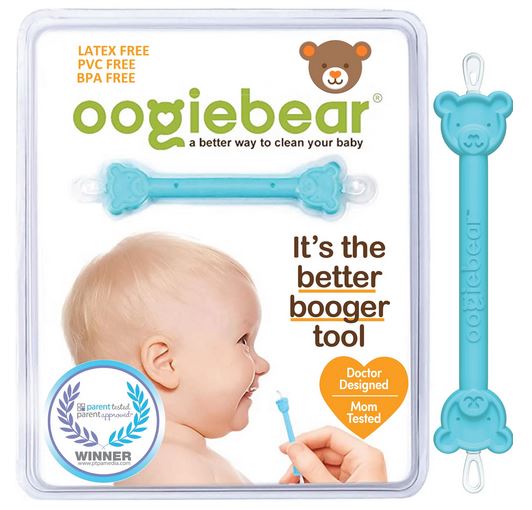 Oogiebear's patented, award-winning design was researched and developed in their Rockville facility
Article originally published by The MoCo Show on September 24, 2022
Potomac residents Sina and Nina Farzin brought their popular product, Oogiebear, onto Season 14 of Shark Tank with the hopes of raising $400,000 dollars. Oogiebear is "the only infant booger picker on the market that effectively and safely removes sticky and dried boogers from babies' nostrils." Their research and product development facility can be found in Rockville/North Potomac.
The Farzins were interested in parting with 5% of their company for $400,000. It costs approximately $3 dollars to make and sells at a price point up to $24.99. The product is specifically designed for children under the age of two and uses a "patented, award-winning design features a loop end that's a magnet for sticky boogers and a scoop end that takes care of those dry, crusty ones, plus our trademark bear head, which is way more than just cute: it prevents the tool from going too far into baby's nose."
"Mr. Wonderful" Kevin O'Leary asked about Oogie Bear's sales and the sharks were pleasantly surprised when Nina informed them that they've sold more than 1 million units, which has generated over $15 million dollars in gross revenue and is on pace to reach a net profit of $1 million dollars this calendar year. Mr. Wonderful was happy to hear that and offered $400,000 dollars in exchange for 10% equity.
The Farzins explained that a lot of the company's sales come from retail stores like Walmart and that they were looking to sell more through their website, since it has been a major weakness for them. Daymond John decided to drop out because he didn't feel like he could provide value to the entrepreneurs, but Lori Greiner decided to make an offer of $400,000 dollars in exchange for 12% equity, asking Mark Cuban to join the deal.
Barbara Corcoran then made an offer that was almost the same as Kevin O'Leary's offer of $400,000 dollars for 10% equity, but she offered half of the equity back if they didn't reach certain metrics. Robert Herjavec liked this offer and joined Barbara, making the offer more appealing with two sharks and ended up offering a little more money for 10%.
The Farzins decided to accept the deal from Robert and Barbara, which was $600,000 dollars for 10% equity. The deciding factor seemed to be Barbara pledging to sell half of her equity back if she was not able to provide a significant boost to the company's performance.
About Oogiebear/Oogie Solutions, LLC
Oogiebear is the invention of Nina Farzin, a pharmacist and parent of three who struggled to find a solution when her babies' noses were congested. She invented a tool that let parents safely pick an infant's nose to allow them to breathe freely. Oogie Solutions office and R&D facility are located on Molecular Drive in Rockville, MD. To learn more, visit https://oogiebear.com/