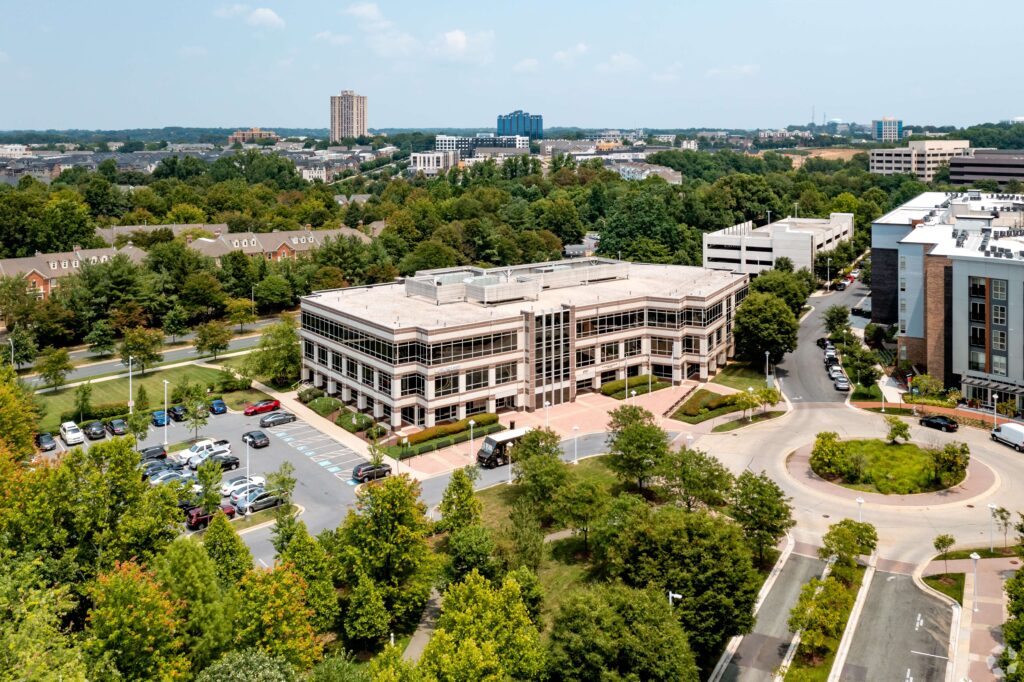 The property at 9707 Key West Ave. in Rockville is strategically located in the epicenter of Montgomery County's life science cluster
Washington, D.C., July 26, 2022 – Rock Creek Property Group, LLC ("Rock Creek") announced it has acquired 51,000 square feet and two floors at 9707 Key West Avenue in Rockville, MD. The property is strategically located in the epicenter of Montgomery County's life science cluster. This is the second acquisition by Rock Creek's Fund III and the purchase price was $8.925 million.
The three-story office building is divided into two condominium units owned by separate entities. The unit acquired by Rock Creek, comprises the entire second and third floors each measuring approximately 25,500 square feet. Rock Creek plans to rebrand the space as Precision Labs™ | Shady Grove, adding to its burgeoning first class life science portfolio.
As Rock Creek's second Precision Labs™ location, the space will offer maximum flexibility for both large and small life science users. The space can be configured either as a rare 51,000-square-foot contiguous block, two-floor combination of lab, R&D and supporting office space, or as one to two floors of spec suites able to accommodate smaller tenants with more immediate needs.
The space has:
13' clear ceilings,
a 48" high loading dock area that can accommodate a 53' tractor trailer,
30' x 40' column spacing on the perimeter, and
Optimal utility services, floor load capacity and robust infrastructure necessary for laboratory, R&D and related uses.
"We are pleased to expand our Precision Labs™ brand to the Shady Grove submarket. The property is ideally situated in the county's premier life science hub and has all the necessary physical attributes to meet the specialized requirements of biotech users," said Gary Schlager, Principal, Rock Creek Property Group. "This unique property can serve both large and small users very efficiently and the location can't be beat."
The acquisition comes on the heels of Rock Creek's first acquisition in Fund III of Precision Labs™| Germantown, a three-building 121,000-square-foot office complex located at 20420, 20430 and 20440 Century Boulevard. The property is already under construction for conversion to state-of-the-art life science space.
Rock Creek has retained JLL's life science team of Amanda Davis and Danny Sheridan to lease  Precision Labs™ | Shady Grove.
"Rock Creek is quickly becoming a leading developer of first class lab and R&D space in the county and has a proven track record of delivering high quality space in 'ready-to-go' condition for life science users. Supply continues to be constrained and Rock Creek's mission to deliver best in class biotech space with its Precision Labs™ concept is being received with open arms by the user and brokerage communities," stated Danny Sheridan, Managing Director, JLL.
About Rock Creek Property Group
Rock Creek Property Group is a real estate investment and development company based in Washington, DC. Since its formation in 2000, the company has acquired and developed a diverse array of properties from apartments, condominiums, retail centers, and commercial office buildings, to unique historic structures, and boutique mixed-use projects. It recently completed the restoration and redevelopment of the historic Takoma Theatre which now houses Children's National as well as delivering 700 Quince Orchard, a state-of-the-art biotechnology manufacturing and lab facility that is serving as Novavax's new global headquarters. For more information, please visit https://rockcreekpg.com/