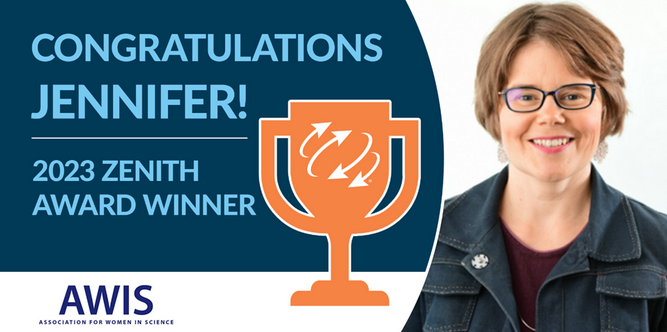 The Association for Women in Science (AWIS) is the leading advocate for women in science, technology, engineering, and mathematics
Rockville, Md., Oct. 23, 2023 – Ripple Effect's Co-owner and COO, Jennifer Pohlhaus, has been honored with AWIS's 2023 Zenith Award. This award recognizes career professionals with a lifetime of innovative achievements in STEM and a commitment to diversity, equity, inclusivity, and accessibility (DEIA).
Dr. Pohlhaus has paired her background in the sciences with her leadership role at Ripple Effect to shape a welcoming and forward-thinking corporate culture that prioritizes lifelong learning, embraces diversity as a key element of innovation, and weaves evidence-based thinking into Ripple Effect's consulting services to offer employees the chance to do the best work of their careers in service of solving some of the nation's most complex challenges.
AWIS is the leading advocate for women in science, technology, engineering, and mathematics (STEM) to achieve business growth, social change, and innovation. AWIS strives to achieve the full participation of women in all disciplines and across all employment sectors. In addition to scholarships, AWIS provides career resources, professional development, as well as networking, mentoring, and volunteer opportunities to build leadership skills.
"Thank you AWIS!" said Jennifer Pohlhaus, "this award is particularly meaningful to me since it reflects my passion for supporting a diverse national workforce in STEMM and acknowledges my efforts to create an inclusive culture at Ripple Effect."
About Ripple Effect
Ripple Effect is an award-winning, women-owned consulting company that works with federal, private, and non-profit clients to support policies and programs that shape our nation. From healthcare implementation to scientific research, Ripple's ever-growing customer base includes NIH, HHS, CMS, CDC, HRSA, and DoD's Navy, Air Force, and Army branches. With a focus on operational excellence, Ripple Effect has gained national recognition, including five consecutive years on the Inc. 5000 list and a 2022 Moxie award for boldness in business. To learn more, visit www.rippleeffect.com.
Link to press release https://rippleeffect.com/2023/10/ripple-effect-co-owner-coo-jennifer-pohlhaus-receives-national-zenith-award-from-the-association-for-women-in-science-awis/