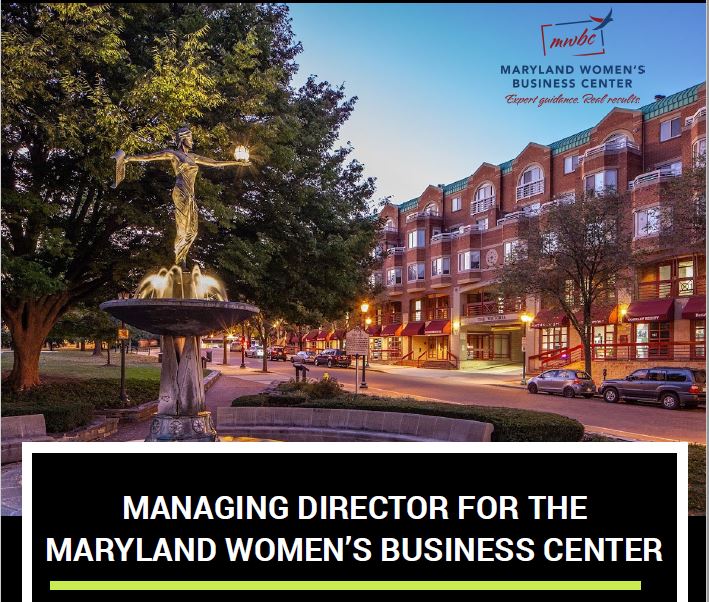 Maryland Women's Business Center is a program of REDI created to meet the need of entrepreneurs, especially women-owned businesses in Maryland
REDI, an innovative and highly successful nonprofit economic development agency located in beautiful Rockville, Maryland, is seeking a dynamic, talented and experienced candidate for the position of Managing Director for the Maryland Women's Business Center to help sustain the progress and continued growth experienced by the community over the last 20+ years.   
REDI is a public-private partnership established to strengthen and broaden the City of Rockville, Maryland's economic base through business entrepreneurship, expansion, retention, and recruitment programs. Rockville, with a population of nearly 70,000, is a vibrant community developed over 14 square miles and is poised for future success.  The city is located just 12 miles northwest of the nation's capital and 35 miles southwest of Baltimore with easy access to Washington, D.C. Rockville is served by two Metro rail stations, several major highways, and three major airports.  Uniquely positioned along the I-270 Bio-Tech Corridor, Rockville is in the center of a variety of technology-based businesses and a daytime labor force of over 80,000 people. There is also a wealth of existing key business clusters providing Rockville a competitive advantage in a variety of areas including the life sciences, advanced immunology, hospitality, cybersecurity, quantum computing, advanced technologies, video gaming, professional services companies and entrepreneurship.  Rockville possesses a strong sense of community and benefits from an educated, ethnically diverse and engaged citizenry, stable neighborhoods, annual celebrations, and a wide range of recreational and cultural opportunities.   The City's downtown serves as the county seat for Montgomery County, one of the most affluent and well-educated counties in the United States.     
REDI, the City's economic development agency since being established in 1997, is governed by a Board of approximately 20 Directors appointed by the Rockville Mayor and City Council and consists of volunteer business representatives and residents who generally live and/or work in the City, including the Mayor and City Manager. The CEO reports directly to the Board of Directors and is responsible for overseeing all aspects of the operation, including two full time employees directly related to economic development. The CEO also is responsible for overseeing seven employees supporting the mission of the Maryland Women's Business Center (MWBC), an innovative program created in 2010 and certified by the SBA in 2013 to meet the needs of entrepreneurs, especially women-owned businesses, at every stage of building and sustaining their business. 
The Managing Director for the Maryland Women's Business Center reports directly to the Chief Executive Officer for the Rockville Economic Development, Inc. (REDI). The MWBC is funded in part through a Cooperative Agreement with the U.S. Small Business Administration, as well as other Federal and local funding sources, including hosting more than 120 workshops a year, interacting with more than 1,600 clients through its various services and programs. The Managing Director, responsible for overseeing an annual budget of $1M and leading a staff of seven, plus other contractors and volunteers, will facilitate the daily operations of the Maryland Women's Business Center (MWBC) in Rockville, Bowie, and a satellite location in Frederick. 
A key responsibility of the Managing Director is overseeing the fiscal management of MWBC to ensure resource and programmatic goals are met, existing grants are effectively managed and other funding sources are identified and pursued. The Managing Director will develop MWBC's annual budget, track actual expenses to budget and report to REDI's Board of Directors and its Executive and Finance Committees on the financial position of the Center and market risks, and develop and manage relationships with diverse stakeholders, including funders, community members, nonprofits, businesses and government officials at local and national levels. The Managing Director will also publicize programs through a variety of mechanisms including media opportunities, website, social media, print channels and trade show attendance, and build and maintain a network with organizations that support entrepreneurs. The position also supervises the training and business counseling programs to ensure a diverse population of women is supported in compliance with funder requirements.
Compensation and Benefits
Salary Range $90,000 – $110,000 DOQ/E, Plus Excellent Benefits
Desired Qualifications
The ideal candidate will have a Bachelor's in Business or a related field with at least seven (7) years in relevant business and/or program management experience. Experience with women's business issues, public speaking skills with training experience, and proficiency in languages other than English is desirable. A Master's degree and a PMP or other types of project management certification is preferred. The selected candidate will have a proven track record of creating, launching, and managing successful similarly sized projects, possess strong financial acumen with demonstrated experience in budget planning and forecasting, and should have a demonstrated ability to work collaboratively with diverse stakeholders and be able to balance competing interests.  Compensation will be negotiated based on experience and education. REDI will provide the new Managing Director with full-time position benefits, paid holiday, annual leave, healthcare benefits, and a 3% matching contribution to a simple IRA plan.
Special Instructions
The position is open until filled with a first review of candidates occurring on Wednesday, August 31, 2022.  For more information, please contact Art Davis at Art.Davis@BakerTilly.com or by phone at 816.868.7042. Following the first review date, the lead consultant will evaluate all applications against the posted qualifications and may invite a select number of applicants to complete additional assignments or participate in a virtual or in-person interviews. Applicants selected as finalists for this position will be subject to a comprehensive background and reference check.
The Maryland Women's Business Center (MWBC) and Rockville Economic Development Inc. (REDI) are both Equal Opportunity Employers and value diversity at all levels of their organizations (EOE).
Please visit the MWBC website at www.marylandwbc.org.
Learn more about REDI and the City of Rockville, Maryland at www.rockvilleredi.org and www.rockvillemd.gov.