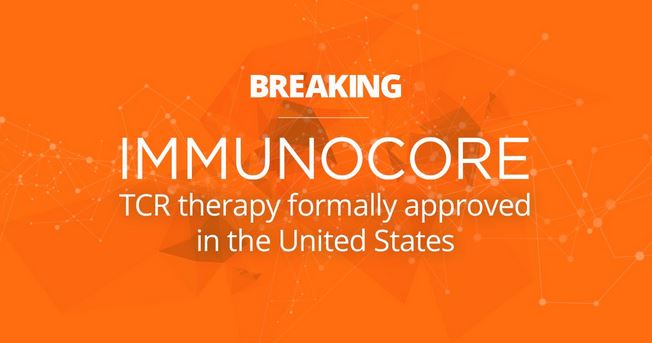 KIMMTRAK® is the first T cell receptor (TCR) therapeutic to receive regulatory approval
Press Release published by Immunocore
OXFORSHIRE, England & CONSHOHOCKEN, Penn. & ROCKVILLE, Md.

,

Jan. 26, 2022
–
Immunocore Holdings plc (Nasdaq:
IMCR) ("Immunocore" or the "Company"), a commercial-stage biotechnology company pioneering the development of a novel class of T cell receptor
(TCR) bispecific immunotherapies designed to treat a broad range of diseases, including cancer, autoimmune and infectious diseases today
announces
approval
from
the
United
States
Food
and
Drug
Administration
(FDA)
of
KIMMTRAK®
(tebentafusp-tebn)
for
the
treatment
of
HLA-A*02:01-positive adult patients with unresectable or metastatic uveal melanoma (mUM).
KIMMTRAK's approval establishes many firsts as the first TCR therapeutic to receive regulatory approval from the FDA, the first bispecific T cell
engager to receive regulatory approval from the FDA to treat a solid tumor, and the first and only therapy for the treatment of unresectable or
metastatic uveal melanoma to be approved by the FDA
.
Bahija Jallal, Chief Executive Officer of Immunocore, said:
"Today's approval of KIMMTRAK
is a historic milestone and the culmination of years of
dedication
by the Immunocore team
, patients,
and our healthcare partners. Every year in the United States, hundreds of people are diagnosed with
metastatic
uveal melanoma who, until now, had
no approved treatment options
.
KIMMTRAK is the first therapy to
demonstrate
a survival benefit to
patients with this disease and we
are
focused
on making KIMMTRAK
available as quickly as possible.
Dr. Jallal continues, "
We're also proud to have
developed
the world's first approved TCR therapeutic, which we believe validates the strength of our
platform and opens doors
for us
to
explore
further
breakthrough
discoveries in
TCR therapeutics for the treatment of
other cancer
s
and diseases with
high unmet need."
"Uveal melanoma is a devastating disease that has historically resulted in death within a year of metastasis for our patients," said
John Kirkwood,
MD,
director of the Melanoma Center at the UPMC Hillman Cancer
Center
. "The approval of KIMMTRAK
(
tebentafusp
-tebn
) represents a major
paradigm shift in the treatment of metastatic uveal melanoma, and for the first time
offers
hope to those with this aggressive form of cancer."
The approval of KIMMTRAK is based on the results of Immunocore's Phase 3 IMCgp100-202 clinical trial, which were published in the September 23,
2021 issue of the
New England Journal of Medicine
. The randomized pivotal trial evaluated overall survival (OS) of KIMMTRAK compared to
investigator's choice (either pembrolizumab, ipilimumab, or dacarbazine) in patients with previously untreated mUM. 378 patients were randomized in
a 2:1 ratio to either KIMMTRAK or investigator's choice. Data from the trial, the largest Phase 3 trial undertaken in mUM, showed that KIMMTRAK
demonstrated unprecedented median OS benefit as a first-line treatment. The OS Hazard Ratio (HR) in the intent-to-treat population favored
KIMMTRAK, HR=0.51 (95% CI: 0.37, 0.71); p< 0.0001, over investigator's choice (82% pembrolizumab; 13% ipilimumab; 6% dacarbazine). In the
clinical trials, across both arms, patients stopped treatment for disease progression, unless the patient was otherwise deriving benefit, or for
unacceptable toxicity.
"When my husband, Gregg, was diagnosed with metastatic uveal melanoma, it was devastating to learn that there were no treatment options shown to
extend life."
said
Sara Selig, MD, MPH, Co-Founder and Director of the M
elanoma Research Foundation's
(MRF)
CURE OM initiative
.
"Now, for
the first time in the history of this disease,
we will soon see
extended survival in the next
generation of metastatic uveal melanoma
patients
."
In the randomized Phase 3 trial of KIMMTRAK (tebentafusp-tebn), treatment-related adverse reactions were manageable and consistent with the
proposed mechanism. Among the patients treated with KIMMTRAK, the most common Grade 3 or higher adverse reactions were rash (18%), pyrexia
(4%), and pruritus (5%). In the 245 patients treated with KIMMTRAK, Grade 3 cytokine release syndrome (CRS) occurred in <1% of patients and were
generally well-managed. There were no Grade 4 or fatal CRS events observed in the Phase 3 trial. A boxed warning is included for CRS as it has the
potential to become serious or life-threatening if not managed appropriately.
"Until now, effective treatment options for metastatic uveal melanoma patients were virtually non-existent. The approval of KIMMTRAK represents not
only a new therapy but a
new hope
for the individuals and the families of those diagnosed with the deadliest form of eye cancer,"
said
Kyleigh
LiPira
,
MBA, CEO of the
MRF
.
The company is ready to commercialize KIMMTRAK and expects to make the product commercially available in the United States within weeks.
KIMMTRAK was granted Breakthrough Therapy Designation for unresectable or metastatic uveal melanoma by the FDA in February 2021. The
Biologics License Application (BLA) approval followed review under the Real-Time Oncology Review (RTOR) program, an initiative of the FDA's
Oncology Center of Excellence designed for efficient delivery of safe and effective cancer treatments to patients. The approval was granted four weeks
ahead of the assigned PDUFA date of February 23, 2022. Immunocore provided an Assessment AID to facilitate FDA review. KIMMTRAK is being
reviewed under the FDA
's Project Orbis initiative, which enabled concurrent review by the health authorities in partner countries that have requested
participation.
The European Medicines Agency (EMA), the United Kingdom's Medicines and Healthcare Regulatory Agency (MHRA), Health Canada, and the
Australian Government Department of Health Therapeutic Goods Administration (TGA) have accepted the submission of the Company's Marketing
Authorisation Application. Additionally, Immunocore launched a global early access program to make KIMMTRAK readily available to mUM patients.
There are currently over 200 patients in 13 countries in the early access program.
Immunocore is committed to helping patients who need KIMMTRAK obtain access via its KIMMTRAKConnect program. The program provides
services with dedicated nurse case managers who provide personalized support, including educational resources, financial assistance, and site of
care coordination. To learn more, visit KIMMTRAKConnect.com, which will launch later this week, or call 844-775-CARE (2273).
About Immunocore
Immunocore is a commercial-stage biotechnology company pioneering the development of a novel class of TCR bispecific immunotherapies called
ImmTAX – Immune mobilizing monoclonal TCRs Against X disease – designed to treat a broad range of diseases, including cancer, autoimmune, and
infectious disease. Leveraging its proprietary, flexible, off-the-shelf ImmTAX platform, Immunocore is developing a deep pipeline in multiple
therapeutic areas, including five clinical stage programs in oncology and infectious disease, advanced pre-clinical programs in autoimmune disease
and multiple earlier pre-clinical programs. Immunocore has locations in Oxfordshire, England, Conshohocken, PA, and Rockville, MD. Learn more about Immunocore at: https://www.immunocore.com/