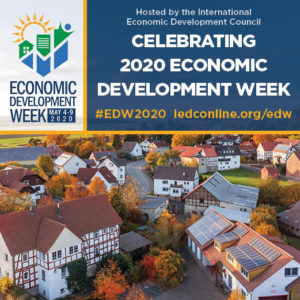 REDI joins cities nationwide to increase awareness of the positive work economic developers do to enhance local economic impact while celebrating the Rockville community.
ROCKVILLE, Md. – May 4, 2020—Rockville Economic Development, Inc. (REDI) is observing National Economic Development Week 2020 from May 4-9 to celebrate the positive contributions of economic development in the Rockville community. In the midst of this current health and economic crisis, it is even more vital for local jurisdictions and economic development organizations to work together to identify opportunities that help local businesses survive and thrive.
As an economic development organization, REDI proactively supports policies and programs explicitly directed at improving the city of Rockville's business climate in collaboration with governmental and community partners working on city, county, and state levels. Initiatives include business funding and incentives, business retention and expansion as well as strategic community and real estate development initiatives. 
REDI also promotes the vibrancy of the Rockville community by publicizing the arts, recreational opportunities, local eating and drinking establishments, and much more. Currently, REDI staff participates in daily multi-agency planning calls to identify and implement ways to support businesses and residents during the COVID-19 crisis. It has also created an information portal (https://rockvilleredi.org/covid-19-resources/) and continues to be a resource for Rockville businesses seeking aid during the pandemic.
"Rockville is known for science and technological innovation, renowned educational institutions, accessibility to federal organizations, a vast transportation system, world class talent, nationally-recognized quality of life, and happy, engaged citizens," said Paul Newman, REDI Board Chair. "We are excited to celebrate all aspects of our great community during Economic Development Week 2020. It is a chance to share some good news at a time when our community needs it most."
Now in its fifth year, National Economic Development Week was created by the International Economic Development Council, the largest professional membership organization for economic developers, in 2016 to recognize the unique role that economic development has in creating vibrant communities with strong economies.
"REDI is in the business of connection," said Cynthia Stewart, REDI Executive Director. "Our efforts support programs and services that expand opportunities for businesses, simplify doing business in Rockville, and enhance our innovative and diverse community. We invite everyone to follow our social media channels—LinkedIn, Twitter, and Facebook—to learn more about our services, successes from the past year, and our great expectations for the future."
REDI offers guidance and support to companies at all stages of growth through a variety of services, which include business funding and incentives, site selection assistance, area data and demographic expertise, networking and referrals, assistance for businesses and developers navigating the project permit and approvals process, and workforce development connections. It also educates stakeholders by sharing relevant news, events, and opportunities for the business community and the community-at-large.
For additional information ways REDI can help your business thrive in Rockville, contact Cindy Stewart Rivarde at cindy@rockvilleredi.org. 
About Rockville Economic Development, Inc.
Rockville Economic Development, Inc. (REDI) was formed in 1997 as a 501(c)(3) to identify and develop economic opportunities to help the City of Rockville prosper. For more than 20 years, REDI has provided businesses with the necessary tools to launch, locate, and expand in Rockville and continues to offer guidance and support to business ventures in the city.  For more information, visit www.rockvilleredi.org.
About the International Economic Development Council
The International Economic Development Council is the leading international association for professional economic developers. IEDC supports the work of more than 5,000 economic developers to create high-quality jobs, develop vibrant communities, and improve the quality of life in their regions. Our members are employed in a wide variety of settings including local, state, provincial, and federal governments, public-private partnerships, universities and a variety of other institutions. To learn more about Economic Development Week, visit IEDC online at iedconline.org/edw.