To assist Rockville's businesses, REDI has created this resource page that includes information and links to financial assistance during COVID-19. We will continue to update this page as more information becomes available, so check this page often and follow us on social media–Facebook, Twitter, and LinkedIn.
If you have questions or need help, schedule a call with one of the business counselors at Maryland Women's Business Center.
Call (301) 315-8091 to get connected.
Updated October 25, 2021

Are you a supplier or buyer in need of critical personal protective equipment (PPE) to combat coronavirus? Click here to connect with suppliers and buyers through the new Maryland Manufacturing Network.
Protect yourself from phishing scams!
Loan applicants seeking federal aid in response to the COVID-19 pandemic through the SBA and its Office of Disaster should be aware that email phishing scams seeking applicants' personally identifiable information (PII) for fraudulent purposes have surfaced. Applicants to SBA's Economic Injury Disaster Loan Program should be particularly vigilant…any email communication from the SBA will come from email accounts ending in sba.gov, not a third party.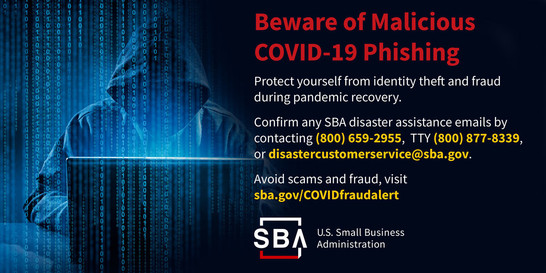 SBA Targeted EIDL Advance – The U.S. Small Business Administration reopened the Economic Injury Disaster Loan (EIDL) portal to all eligible applicants experiencing economic impacts due to COVID-19. The Supplemental Targeted Advance provides a supplemental payment of $5,000 that is forgiveable is the following eligibility criteria is met:

Is located in a low-income community. Use this mapping tool to see if your business is located in a designated area.
Can prove more than a 50% economic loss during an eight-week period beginning March 2, 2020 or later, compared to the same period of the previous year.
Has 10 or fewer employees
Learn more and apply here: Targeted EIDL Advance and Supplemental Targeted Advance (sba.gov)
Montgomery County Local Small Business Reserve Program (LSBRP) – Beginning April 1, Montgomery County's Office of Procurement will require that informal solicitations be reserved under the Local Small Business Reserve Program (LSBRP) to help local small businesses to recover from the COVID-19 recession. In FY 2020, more than $2 million was awarded in informal solicitations, which can make a huge difference to local small businesses.
$250 Million 'Maryland Strong: Economic Recovery Initiative' – Additional funding to assist restaurants, small businesses, local entertainment venues, arts organizations, and Main Streets across the state has been approved. This initiative doubles the state's total commitment to COVID-19 emergency economic relief for Marylanders to $500 million. The additional $250 million will be allocated as follows:

$50M: Expansion of Maryland Small Business COVID-19 Relief Grant Fund

$50M: Direct Relief for Restaurants

$20M: Direct Relief for Main Street

$20M: Expansion of COVID-19 Layoff Aversion Fund

$5M: Expansion of Small and Minority Business Low-Interest Loans

$3M: Expansion of Arts Organization Funding

$2M: Hometown Tourism Program

$100M: Emergency Rapid Response Fund for Small Businesses
Currently Closed Economic Programs
CARES Act – Congress has passed the Coronavirus Aid, Relief, and Economic Security (CARES) Act, which approves more than $2 trillion in economic relief. Click here for complete details.
$10 M Available through Small Business COVID-19 RELIEF Grant Program – The Maryland Department of Commerce opened its application portal on March 30 for new Maryland Small Business COVID-19 RELIEF Grant Program in 2021 with $10 million in state RELIEF Act funding. HURRY! The application portal is only  open from March 30-April 6. 
BGE Energizing Small Business Grants Program – Eligible businesses located in BGE's service area can apply for grants of up to $20,000, beginning January 20. BGE, an Exelon Company, launched its Energizing Small Business Grants Program as part of its $15 million pledge to assist small businesses with COVID-19 relief and recovery. Eligible businesses located in BGE's service area will have three opportunities to apply for grants of up to $20,000:

Round 1: January 20 – March 3, 2021 
Round 2: May 5 – June 16, 2021
Round 3: September 1 – October 13, 2021
Applicants must be a for-profit business and an existing BGE electric and/or gas customer with positive BGE credit history. Preference will be given to minority-owned and woman owned-owned businesses. Review full criteria and apply at http://bge.helloalice.com/. 

Paycheck Protection Program Reopened on January 11 – SBA reopened the Paycheck Protection Program (PPP) for First Draw PPP Loans the week of January 11, 2021. SBA began accepting applications for Second Draw PPP Loans on January 13, 2021, and will accept them until March 31, 2021. For more details on recent updates, click here. Or, apply at https://www.sba.gov/funding-programs/loans/coronavirus-relief-options/paycheck-protection-program/second-draw-ppp-loans.
Montgomery County Hotel Relief Grant Program Accepting Applications until February 7

 – This program will provide financial assistance to hotels and other lodging entities located in Montgomery County. To learn more, including eligibility requirements and FAQs, visit 

https://www.montgomerycountymd.gov/Biz-Resources/hrg/

.




Applications must be submitted by Sunday, February 7, 2021

. Funds will be dispersed by March 31, 2021. 

Reopen Montgomery Program – This program will provide up to $5,000 to hard-hit local businesses and nonprofits facing the costs of PPE needed to safely reopen. Applicants were notified by email on December 4. 
For information, visit:  https://www.montgomerycountymd.gov/biz-resources/reopen/. This is a rolling lottery and businesses can only apply ONCE!  Lottery #5 was held on October 29, 2020, and Lottery #6 is TBD.
Montgomery County Restaurant Relief Fund – Local food establishments may be eligible for up to $10,000 through a pandemic relief grant to help to cover rent, payroll and other expenses. This includes restaurants, food trucks, caterers, and wineries/breweries that directly provide food service. The $8 million state-funded Restaurant Relief Grant Program closed its application portal on December 4, 2020. Visit https://thinkmoco.com/covid-19-resources/restaurant-relief-grant for information on your application. 
Neighborhood Business Works (NBW) Program: Opportunity Zone Micro Grant Funding – Funding has closed and will not be accepting any more applications at this time. If additional funding becomes available, the application may be reopened. For updates, visit: https://dhcd.maryland.gov/Business/Pages/OZ-Microgrant.aspx. 
2020 Renters' Tax Credit Application Form – The deadline for the 2020 Homeowners' and Renters' Property Tax Credits was October 31, 2020. For more information, click here.
Maryland Small Business Development Financing Authority (MSBDFA) Program COVID-19 Emergency Relief Loans – The MSBDFA program received its second round of relief funding on October 22, 2020; however, due to the backlog of applications already received from the previous allocation, no new applications will be accepted. Previously received applications will be considered for funding and do not need to reapply. If your previous MSBDFA COVID-19 loan request was declined, you are not eligible for reconsideration. For  updates visit, https://mmgcapitalgroup.com/covid-19-emergency-relief-loan-fund-message/.
The Legacy Fund for Small Business Development – The Legacy Fund was established with a $1 million grant from the Greater Washington Community Foundation to provide critically needed access to capital for small businesses in Prince George's County. The fund closed on August 28, 2020. To learn more about the program, please visit www.fscfirst.com/legacy-fund.
The Arts & Humanities Council of Montgomery County Relief Fund – The Arts & Humanities COVID-19 Relief Fund to help Montgomery County, MD, based non-profit arts and/or humanities organizations and individual artists and scholars experiencing financial hardship due to COVID-19 closed on September 14. Complete information can be found here: https://www.creativemoco.com/grant/covid-19-relief-funds.
SBA Paycheck Protection Program (PPP) – Current law dictates that the Paycheck Protection Program (PPP) close at the end of August 8, 2020. As such, SBA is no longer accepting PPP applications from participating lenders. For updates, visit: https://www.sba.gov/funding-programs/loans/coronavirus-relief-options/paycheck-protection-program
SBA Economic Injury Disaster Loan Advance – All available funds for the EIDL Advance program have been allocated. By law, SBA is not able to issue EIDL Advances once program funding has been obligated and is no longer available. EIDL loan applications will still be processed even though the Advance is no longer available. Information on how the EIDL Advance worked:  The amount of the EIDL Advance was determined by the number of employees indicated on the EIDL application at $1,000 per employee, up to a maximum of $10,000. The EIDL Advance does not have to be repaid. Recipients did not have to be approved for an EIDL loan in order to receive the EIDL Advance, but the amount of the loan advance is be deducted from total loan eligibility.
Maryland State Arts Council (MSAC) Emergency Grant for Arts Organizations – The second round of emergency grant applications ended on August 3, 2020. Click here to review other opportunities and resources for arts organizations and artists at this time. 
Montgomery County Telework Grant – Applications are no longer being accepted for this grant. Click here to visit the Telework Grant information page.
Prince George's County COVID-19 Business Recovery Initiative (formerly Relief Fund) – a $20 million program that offers grants to provide working capital for small County-based businesses whose operations have been interrupted due to COVID -19. No longer accepting new applications for the COVID-19 Business Recovery Initiative. If you have submitted an application, we are still processing your request.
Maryland Agricultural Resource-Based Industry Development Corporation (MARBIDCO) – Its Pandemic Adjustment Loan Fund Program to help Maryland's food and fiber producers, harvesters, and primary processors adjust to business disruptions closed on July 15.
Montgomery County Microenterprise Stabilization Program – the application window for this grant program closed on June 16. We will provide status updates once they are received from the County. Detailed information can be found at: https://montgomerycountymd.gov/Biz-Resources/msp/. Note: Businesses that received assistance from Montgomery County through the Public Health Emergency Grant program (PHEG) are NOT eligible to receive funding from the Microenterprise Stabilization Program.
Maryland Heritage Areas Authority (MHAA) – Grants for heritage tourism nonprofits are no longer being accepted at this time. If additional funding is approved, applications will re-open on this page: https://bit.ly/MHAACOVID. 
Maryland Department of Commerce Small Business Relief Grants and Loans – As of 5:00p on April 6, 2020, the Maryland Department of Commerce is no longer accepting applications for COVID-19 Small Business Relief Grant and Loan Programs. All applications that have been submitted are currently being reviewed in the order received.
Maryland COVID-19 Emergency Relief Manufacturing Fund – Recently Governor Hogan announced 20 companies that received first round grants totaling more than $1.6 million. The grants were awarded to manufacturing companies to help with expenses related to pivoting to or expanding production of Personal Protective Equipment (PPE). Read more here.
National Restaurant Employee Relief Fund – Due to an overwhelming response of 60,000 applicants to date, the Fund is not currently accepting new applications. The National Restaurant Association Education Fund (NRAEF) continues to raise money to assist more individuals in the future. Check back at rerf.us for updates and follow our Twitter, Facebook, and Instagram feeds.
Montgomery County Public Health Emergency Grant (PHEG) – Due to the overwhelming response to the PHEG program, applications will no longer be accepted after 5:00p on Saturday, April 25, 2020. PHEG has launched a public dashboard that shares characteristics of PHEG applicants and how grant dollars are awarded.
Hello Alice Foundation Grants for Black-owned Small Businesses – The Hello Alice Foundation is offering grants of up to $10,000 to Black-owned small businesses in the United States. This grant can be used to assist in the recovery or stabilization of a small business that has been negatively impacted by COVID-19. Details can be found at https://blog.helloalice.com/covid-19-emergency-grant-process/.