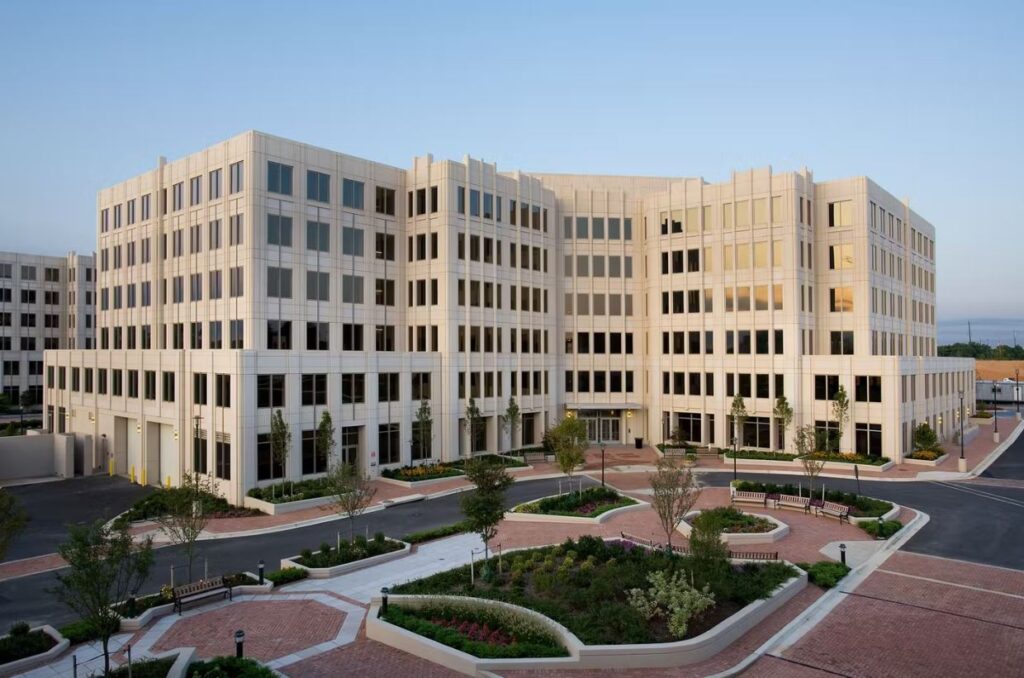 Arcellx's recent IPO raised over $120 million for advancing Phase 2 trial of a product to treat relapsed/refractory multiple myeloma
Article originally published by Washington Business Journal on August 1, 2022
Gaithersburg's Arcellx Inc. (NASDAQ: ACLX) has inked a deal to expand into Rockville.
The newly minted public company, a clinical-stage provider of cell therapies for cancer and autoimmune diseases, has signed a lease for 60,000 square feet at 800 King Farm Blvd., a roughly 215,000-square-foot office building that Miami-based Banyan Street Capital will convert into office and lab space for life sciences companies. Banyan Street had acquired an ownership stake in 800 King Farm, as well as 700 and 702 King Farm Blvd., in 2020, according to JLL.
Banyan Street is simultaneously planning a similar conversion for 805 King Farm Blvd., which it acquired in December for $33.2 million, according to Maryland records. The four King Farm buildings are collectively branded as The District at King Farm.
The two office-to-lab conversions combined, to be branded as District Labs, will yield a total of 480,000 square feet of lab and office space, Banyan Street said. The investor also announced it has acquired, for an undisclosed price, a 0.8-acre surface parking lot adjacent to 805 King Farm that is zoned for another 155,000 square feet of life sciences-related space, "which Banyan is planning to develop subject to continued leasing momentum within the converted inventory."
Arcellx's recent initial public offering raised about $124 million, much of that to advance a phase 2 trial for one of several product candidates it's developing to treat relapsed/refractory multiple myeloma, a cancer of the blood plasma cells. The biotech didn't specify what it would use the King Farm space for, but in an earnings call earlier this year, Chairman and CEO Rami Elghandour said the company would need to quickly expand its manufacturing and distribution operations as it tries to commercialize its products while aiming to develop new ones. 
"Our operating expenses and capital requirements will increase substantially," he said in the earnings call. The company's lease at 25 W. Watkins Mill Road in Gaithersburg, five miles north of the King Farm property, runs through 2030, he said at the time.
For the remaining space at District Labs, Banyan plans to target small to mid-sized biosciences companies looking for space ranging from 5,000 to 300,000 square feet. DNC Architects and JennERIK Engineering are part of the conversion development team.
In a release, Banyan noted that suburban Maryland's life sciences industry "remains robust" with a vacancy rate of less than 2%. Numerous office-to-lab conversions have been proposed of late by the likes of Stonebridge, Boston Properties and Longfellow Real Estate Partners, while the Montgomery County Council is weighing additional incentives to keep the sector strong.
Converting an existing building, rather than constructing from the ground up, "offers an opportunity to capitalize on the existing building's ideal lab infrastructure and accommodate the urgent timelines among life sciences companies like Arcellx," Zac Gruber, Banyan's managing director, said in a statement.
Outside of Montgomery County, Banyan Street's portfolio includes American Center in Tysons, One East Pratt in Baltimore, 180 Maiden Lane in New York City, the Peachtree Center and Salesforce Tower in Atlanta, multiple office towers in South Florida and the Wells Fargo Center in Jacksonville, Florida.
Kevin McGloon, Peter Rosan and Megan Williams of Cushman & Wakefield manage leasing at The District. The conversion of 800 King Farm will be complete by the end of 2022, and the company also expects to have about 40,000 square feet of speculative lab space built out within it by mid-2023.
About Arcellx
Arcellx, Inc.is a clinical-stage biotechnology company reimagining cell therapy by engineering innovative immunotherapies for patients with cancer and other incurable diseases. We believe that cell therapies are one of the forward pillars of medicine and our mission is to advance humanity by developing cell therapies that are safer, more effective, and more broadly accessible.  Learn more at https://www.arcellx.com/
About The District at King Farm
With a campus-like setting, The District at King Farm integrates community and wellness with flexibility. The District at King Farm enjoys a superior location in one of Montgomery Counties most desirable communities to live and work. The park consists of four six-story, full-service office and lab buildings that are located near I-270 providing access to great restaurants and shopping. Learn more at https://districtkingfarm.com/