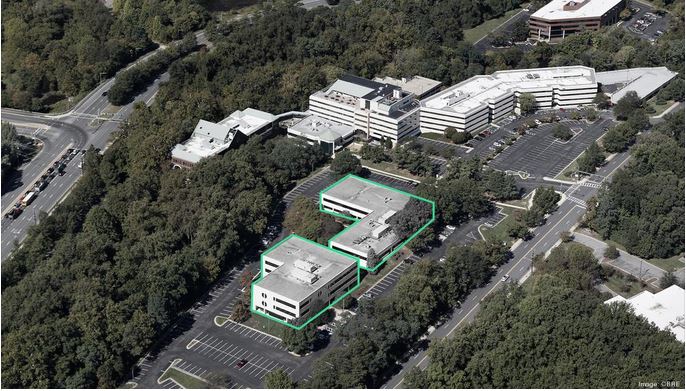 The 7.5 acre 'Research Square' property sold for $25.5 million to Arlington-based Altus Realty
Article originally published by Washington Business Journal on July 14, 2022
A pair of vacant low-rise office buildings in Rockville recently changed ownership and will be converted to life science labs, illustrating yet again the persistent demand for biotech space in Montgomery County.
The buildings at 1500 and 1550 Research Blvd sit on a 7.5-acre property, dubbed Research Square. Between one and three stories and totaling about 85,000 square feet, they'd formed part of a larger campus that's home to Westat Inc., a research firm.
Westat affiliate Twelve Oaks Investment LLC sold the property to Arlington-based Altus Realty, a developer and investor, for $25.5 million, in a deal that closed Tuesday. The property was last assessed at $8.9 million.
Unloading the buildings allows Westat to shrink its footprint in light of its decreased need for office space, spurred by the pandemic, a spokesperson said in an email. It does not plan to sell off additional buildings from its larger campus.
Altus did not respond to respond to requests for comment.
While the deal doesn't stand out for its size or sale price, it's noteworthy in that it's ready for immediate conversion to lab space, according to a statement from CBRE, which represented the seller in the transaction.
It comes on the heels of Boston-based Longfellow Real Estate Partners' acquisition of a Rockville office building with the intent to convert it to lab space. That deal marked Longfellow's entry into Greater Washington.
"Two themes remain consistent: the life sciences industry wants to grow here and we have no space available," Tommy Cleaver, an executive vice president with CBRE (NYSE: CBRE), said in a statement, referring to the I-270 biotech corridor that runs roughly from Bethesda to Frederick. Cleaver is bullish on suburban Maryland's life science potential, having said previously he expects the sector's footprint to double in the region over the next decade — if not sooner.
In an interview Wednesday, Cleaver said 10 new investors — of which CBRE has represented seven — have entered the I-270 corridor life science real estate market in the last year. He also noted that Westat's property sold for a record $284 per square foot, up from an earlier record of $268 per square foot last summer, when Boston Properties acquired Rockville's Shady Grove Innovation District.
The high price represents "sustained confidence in the leasing fundamentals and the ability to realize rent growth," he said.
Montgomery County is facing an immediate shortfall of at least two million square feet of private lab space, compared to demand forecasts, Ben Wu, who heads the Montgomery County Economic Development Corp., said at a February press event, citing a 2021 report from his organization. A handful of recently announced large projects would eventually cover that deficit, but they will take time to be completed. Those include Trammell Crow's investment in a portion of Johns Hopkins' Belward Campus in Rockville; Boston Properties' Shady Grove Innovation District; and a pair of facilities called Evolution Labs in Gaithersburg and Bethesda.
Industry proponents rank Greater Washington and Baltimore among the top regions nationally for life science, on a variety of measures, with other major metros including Boston/Cambridge, North Carolina's Research Triangle and California's Bay Area and San Diego. The region's popularity can be credited largely to its proximity to the Food and Drug Administration and National Institutes of Health, both headquartered in Montgomery County, as well as to the U.S. Army's biomedical R&D activity at Fort Dietrich and Johns Hopkins University in Baltimore.
About Altus Realty
Altus is a full-service real estate development and investment company based in Washington, DC. From repositioning under-performing assets to developing ground-up projects, Altus focuses on creating mixes of residential, office, retail and hospitality experiences that inspire. Learn more at https://www.altusre.com/